CLONE has been restored and reimagined as a utility style Defender, complete with original frame and 200Tdi engine, but upgraded and improved to be better than the original. As our client says, "Defender is the Swiss Army knife of vehicles"; a rugged and durable workhorse (which is probably why it pops up in action movies time and time again!).
HELLA® spotlights, a WARN® winch, Safari® snorkel, wading kit and Front Runner® roof rack make this D110 prepared for traversing all kinds on unyielding terrain. The heritage Willow Green bodywork is an original Land Rover colour that has received a Raptor finish, along with the Satin Black hood, roof and wheel archers to enhance the utilitarian, military style.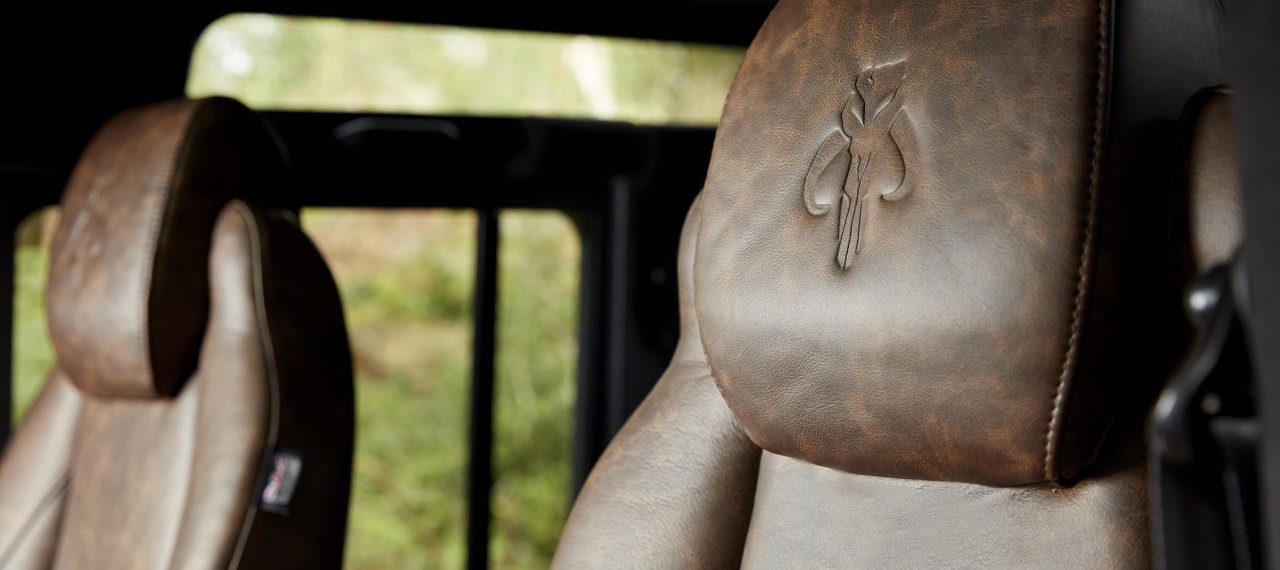 The lived-in style that the client wanted to achieve is conveyed inside with dappled, Vintage Thatch leather upholstery, complete with custom head rests. CLONE'S owner is a big Star Wars fan and has chosen to include embossed Mythosaur skull symbols, paying homage to his favourite character: the bounty hunter Boba Fett, who also sports that battle hardened, utilitarian look, personified in this Defender.
The pièce de résistance was the Arkonik team's ability to work with me to incorporate one of my other passions that has carried over into adulthood…Star Wars.
Owner | Texas, USA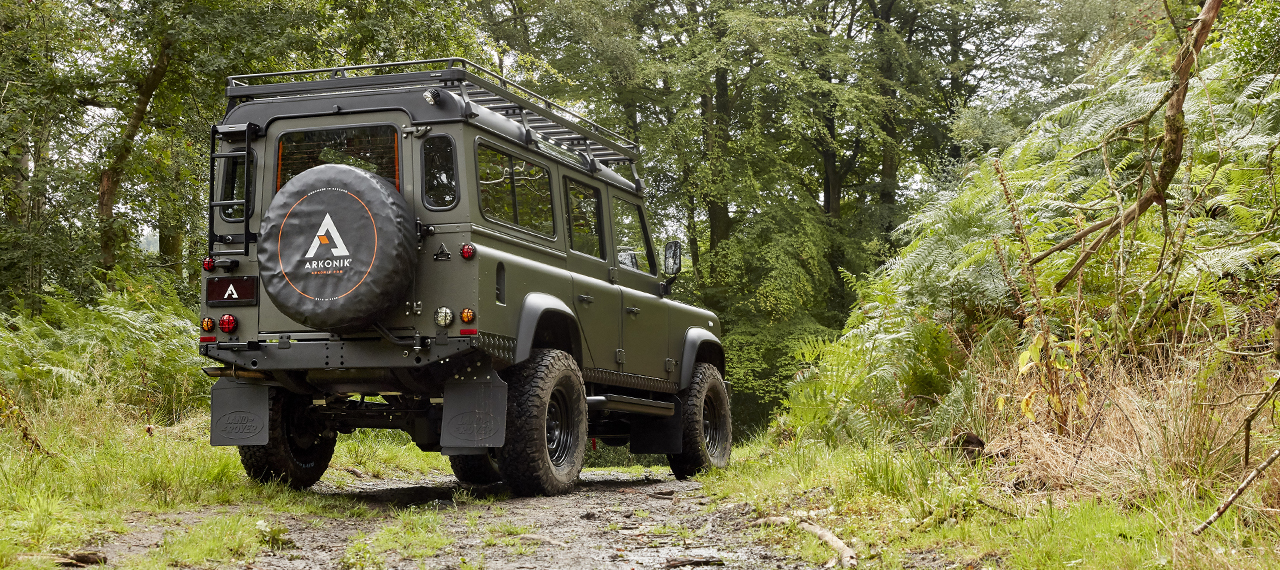 "The Defender has always epitomized capability to me; a rugged, capable and durable vehicle. These are the things that I aspired to as a young boy (and still aspire to be as a slightly older boy).

Living in Northern California puts me in proximity to wonderful terrain on which to use the Defender; from desert trails to beaches and the mountainous Rubicon trail. Come rain, shine or snow, there will be ample opportunity to test its capabilities, all within a few hours drive.

Of course, the pièce de résistance was the Arkonik team's ability to work with me to incorporate one of my other passions that has carried over into adulthood…Star Wars! From start to nearly finished now, my experience with Arkonik has been the absolute best customer service experience this side of Disneyland."

Owner | Texas, USA

EXTERIOR
Body color: Willow Green
Roof Color: Raptor Black
Paint finish: Raptor
Wheel arch color: Raptor coated
Hood: OEM Puma
Wheels: Wolf steel 16" (Black)
Tires: BFGoodrich® All Terrain T/A KO2
Suspension: Terrafirma® with 2" lift-kit and uprated steering damper
Grille: KBX® Signature inc. light surrounds
A-bar: Arkonik with Hella® Rallye 4000 Halogen (Black) spotlights
Winch: WARN® Zeon 12-S
Steering guard: Brushed aluminium
Headlights: WIPAC® Xenon / Standard
Wing-top air intakes: KBX® Hi-Force
Snorkel: Safari® inc. wading kit
Chequer plate: Wing-top and side sills (Satin Black)
Side steps: Fire & Ice (Ebony)
Work lamp: Rear-facing LED
Roof rack: Front Runner® Slimline II with rear ladder

INTERIOR
Seating trim: Vintage Thatch Brown Leather
Front row seats: Elite
Front storage: Premium Lock box with USB port
Center row: 2 premium high-back (heated) with lock box
Load area seats: Inward facing tip-ups and a single Lock & Fold
Steering wheel: Evander wood rimmed 15"
Gear knobs: Alloy
Door furniture: Alloy
Headlining: Black suede
Sound system: Alpine® Touch screen with Apple® CarPlay and reversing camera display

See the full spec for CLONE D110 here.