At Akonik we've decided that we've had enough of Winter and are looking forward to the warmer Spring weather just around the corner. With this in mind, this week we have collated a selection of gleaming Editions under bright blue skies; these Arkonik Defenders are ready to spring into action.

Read on to find out more about these vehicles and what makes them the most authentic Land Rover Defender restorations in the world: 'The Arkonik Difference'."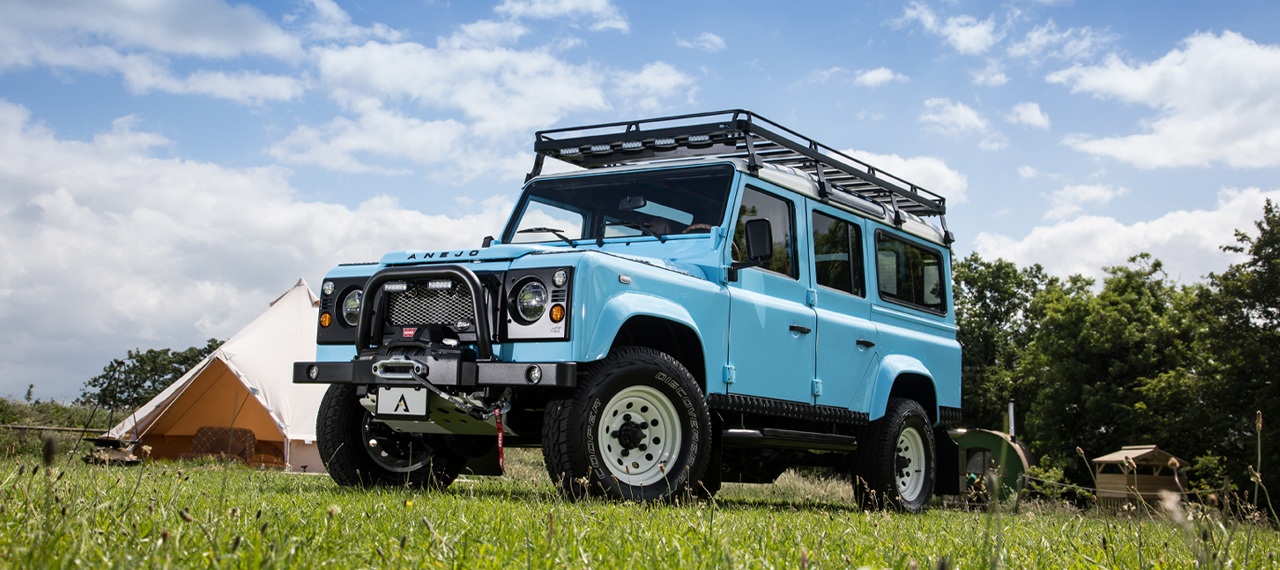 SOMETHING DIFFERENT
ANEJO is an exercise in creative expression and the epitome of our bespoke service. Each custom build is an evolution, all stemming from an idea in our client's mind. From the Sky Blue body to the colourful Mexican blanket Ruskin interior, this truck radiates vitality and celebration.
DID YOU KNOW?
When it comes to your interior, the configuration process includes countless options. We'll work with Ruskin Design to find you just the right leather from a huge array of colours, textures and finishes. You can also combine your upholstery choice with other materials to create something truly unique.
READY FOR ACTION
With the added reassurance of a WARN® winch, high-lift jack and raised suspension, GIBRALTAR is all set to roam and explore, safe in the knowledge that it's ready for anything.
DID YOU KNOW?
We have invested heavily in custom tooling, enabling us to create our own bulkheads. Our panel work is fitted with our own design of gaskets to avoid the galvanic corrosion that other Defenders suffer from.
BETTER THAN THE ORIGINAL
RANGER is a classic D90 with Keswick Green bodywork and Chawton White roof. As with all Arkonik Defenders, the frame, engine and gearbox have been fully restored, whilst virtually everything else is fitted brand new as standard.
DID YOU KNOW?
Historically, paint finish was always a weak point for Defenders. However, at Arkonik we have perfected this process and coat your vehicle with five layers of primer and one layer of etch primer, laying a solid base before your chosen colour is applied.