The first Land Rover Series was unveiled at the Amsterdam Motor Show on this day in 1948. Things have changed quite alot since then…
Usually Land Rover celebrate the day in style by showcasing their latest creation. Last year it was the launch of the new Defender. This time last year they were preparing to embark on field-testing with global Land Rover conservation partner, Tusk Trust. The prototypes were put to work towing, wading and carrying supplies at the Borana Conservancy in Kenya to support vital conservation work. The fleet completed more than 45,000 individual tests in some of the world's most inhospitable places.

This year, things look pretty different. Today they are celebrating the heroes who are going above and beyond during the COVID-19 crisis. More than 160 vehicles have now deployed globally to support emergency response organisations. 57 vehicles including 27 New Defenders from the press fleet have been put into service with the British Red Cross to deliver medicine and food to vulnerable people including the elderly across the UK. A further 65 vehicles are supporting the Red Cross Societies in Australia, Spain, South Africa and France with more vehicles expected to be deployed in the UK and other countries very soon. Plus protective equipment is being donated to the NHS including wraparound safety glasses to hospitals across the country to protect health service staff. Watch the video here.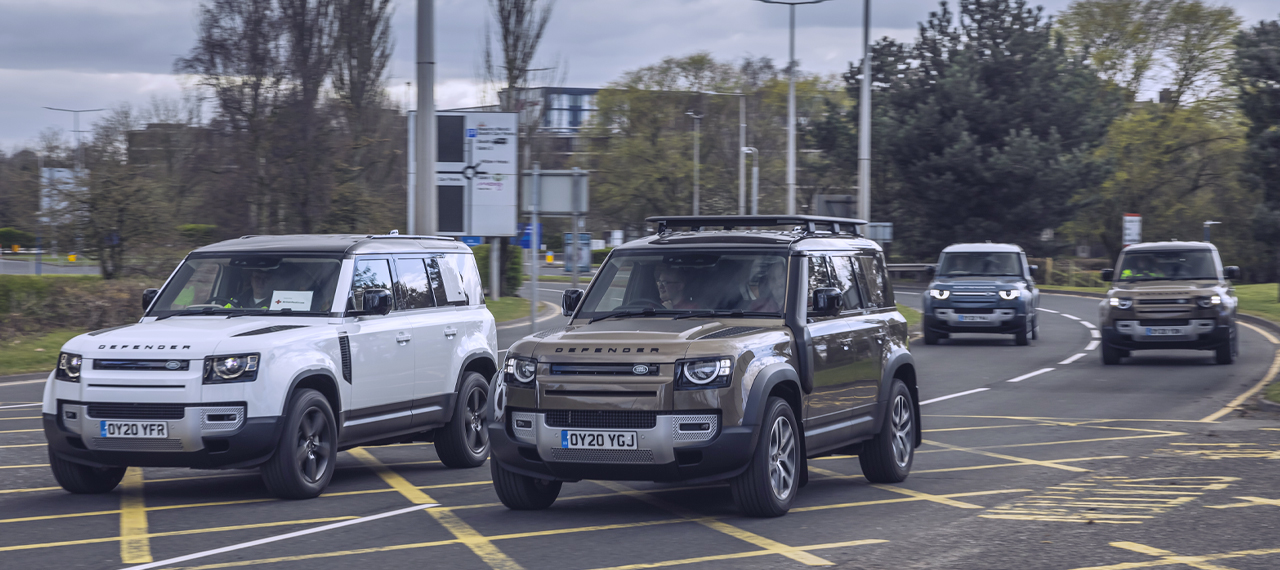 "We have been overwhelmed by the kindness shown across the country, not only by our increasing number of volunteers, but also our longstanding partners. Thanks to Land Rover's generous support, our Emergency Response teams in the UK will be to reach even more people living in isolated communities than we could alone."
Simon Lewis | Head of Crisis Response, British Red Cross

"The health and safety of our employees, customers and their families remains our priority. Jaguar and Land Rover will do everything we can to support people in need around the world. Our partnership with the Red Cross goes back 65 years and we will work hand in hand with them to do all we can during this global health emergency. We will also provide help to those closer to home in our local communities. We can all play a part in helping the vulnerable during this global pandemic."
Finbar McFall | JLR Customer Experience Director
(Source: Land Rover UK PR)

What is Arkonik doing?

Whilst we count down the days till we can get back to doing what we do best (building Defenders), our team are keeping themselves busy! We're very proud to say that some have registered to become NHS Volunteers, whilst others are helping out in their local communities wherever they can.
Jack is one of our Assembly technicians and has registered as an NHS volunteer. Arkonik, headed up by our MD Andy Hayes (who has also registered as an NHS vounteer) has put a shout out to our local community offering to help deliver food and supplies. Tom from Client Services and his dog Piper are ready and waiting in their Defender to be called upon by the NHS. Lauren, our Marketing Executive and her husband are carrying out shopping trips and food deliveries for vulnerable elderly neighbours.

As well as this, we continue to contribute to the UK economy by keeping our 70 members of staff employed whilst they are furloughed and working hard to ensure that Arkonik remains a strong and viable business. As Andy Hayes, MD states:
"At Arkonik, our priorities are taking care of our employees, clients, suppliers, our friends and all who surround us. To take a stand in beating COVID-19, we decided to temporarily close Arkonik's sites both in Somerset, UK and Charleston, South Carolina five weeks ago. This was a necessary step in reducing the spread of this disease and reducing the stress that our front line responders and our wider communities are currently facing.
We shall pass through this not only intact but with stronger ties and bonds than ever. I have given my personal guarantee that every client in our pipeline shall receive their Dream Defender without exception, it may take a little longer than we had planned together but get their dream they shall! If in doubt be like the best of Defender….Forgiving, Stoic and Cool."