The rover returns
Land Rover's much anticipated New Defender is beginning delivery soon, but the old model seems more loved than ever. Some pristine, last-of-the-line examples are changing hands for considerably more than they sold for as production came to an end in 2016. Indeed, many "Landy" enthusiasts say they would rather have a new old one than a new one. This is why Arkonik has recently returned to selling its meticulously restored and upgraded 80s and 90s versions in the UK, after a decade of building them primarily for the N. American market, to which it has shipped more than 270.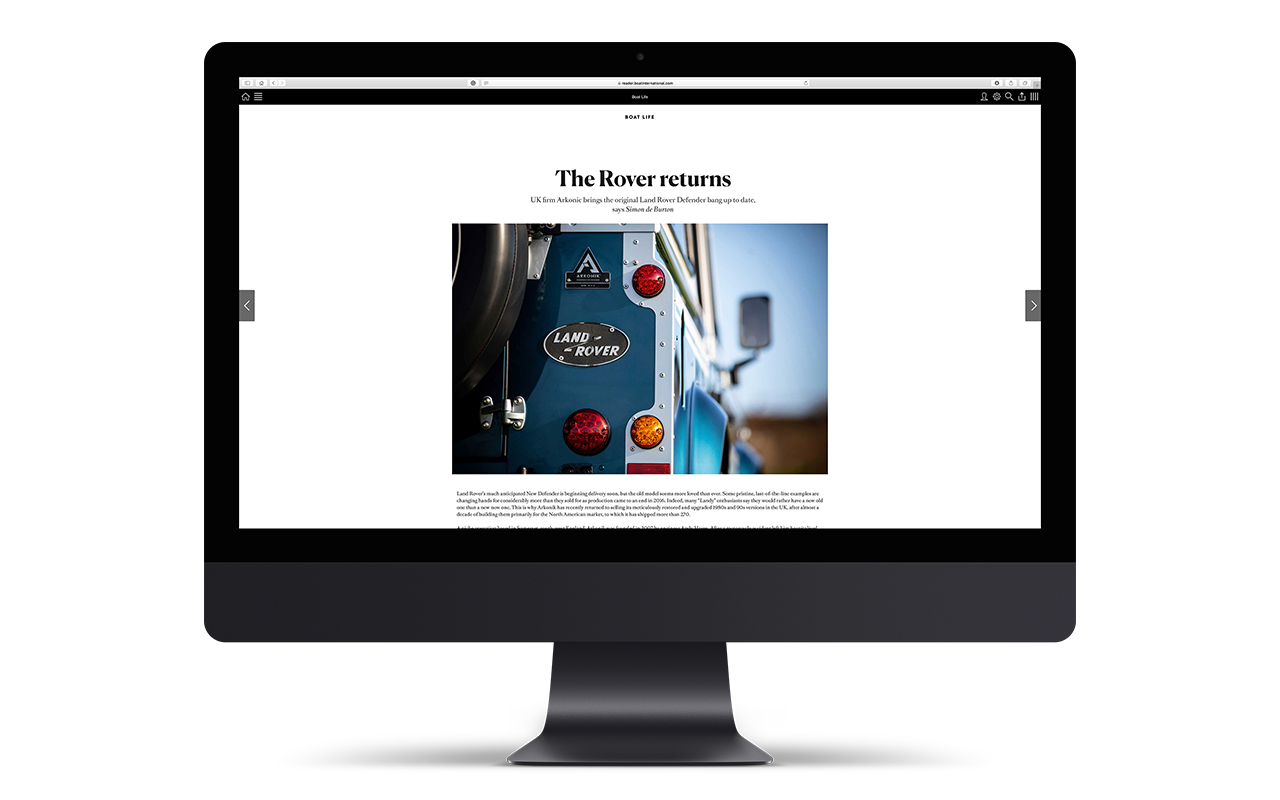 We can probably guess which one will attract more attention when it draws up at the marina.
A niche operation based in Somerset, south-west England, Arkonik was founded in 2007 by engineer Andy Hayes. After a motorcycle accident left him hospitalised for two months, Hayes recuperated by restoring a beaten-up 1983 Defender and driving it around much of mainland Europe. He built a second on returning and, after selling it with little effort, he realised the potential for a business that not only restored original Defenders to better-than-new condition but also improved them with contemporary enhancements to make them more practical and pleasurable to use in the modern world.
The plan coincided nicely with the fact that vehicles 25 years old and more may be imported into North America as "classics" without having to meet the latest safety criteria. And while the Jeep may be the patriotic choice, Land Rovers have long been loved by enthusiasts throughout the continent.
Having enjoyed considerable success sending his "restomod" creations across the Atlantic, Hayes decided to take advantage of the hype surrounding the New Defender and relaunch Arkonik sales in the UK and Europe, an event he marked by comprehensively restoring and upgrading an original, long wheelbase 1983 Defender he bought in 2006.

With its 6.2-litre, 430hp Corvette sports car engine, luxurious interior, rust-proofed and hand-painted chassis, upgraded braking and suspension systems and shimmering Stratos Blue and Cream Pearl finish, the 110 is a showcase for what Arkonik can do. It also highlights the fact that, while the newly arrived model might be brimming with state-of-the-art technology, the rugged simplicity of the old one can be skilfully combined with a host of intelligent modifications to create a car that will provide a lifetime of enjoyable, practical and reliable service.
And, since each build is bespoke, every Arkonik is tailor-made for the individual purchaser. The only downside, of course, is the price. An "entry level" Arkonik will set you back around £120,000, and that's more than twice the cost of a New Defender. But we can probably guess which one will attract more attention when it draws up at the marina

You can subscribe to Boat International magazine here.