A POSITIVE MESSAGE
"To begin with, there are some harsh but truthful facts, (boooo!) quickly followed by some hugely optimistic thoughts for our progress (yeahhh!). As a company, we have closed the doors for now and we are no longer receiving new sales income or staged payment income from our clients in the normal / planned for ways. In fact, we are refusing to take any further payments. Our income has gone from a planned 1 million pounds this month to £400k. Next month we are planning for zero income, but still with our own outgoings of c. £500k. But don't worry, we have contingency and we remain a very valuable and very viable business.
Our bankers know how strong we are and they are stepping up (along with other prospective lenders). It will take us around six weeks to achieve funds in the bank. These funds shall act as buffer, ready for our return to work and normalised production. I will personally be acting as guarantor for all and any debt. I have worked tirelessly since last Tuesday, along with my Commercial Manager Penny, and my commercial experts to get the bank what they need for our emergency funding.
We have not been idle nor shall we be, ever in this respect. Money in the bank will mean people get paid, trucks get built and business normality returns. We are hugely attractive to lenders as a consequence of the fact that we actually have no debt whatsoever at the moment and prior to this current threat, we were on a trajectory for huge expansion and growth. They know, like you and I know that we shall weather this situation and emerge stronger and leaner and more determined than ever. As the old saying goes "when the going gets tough - the tough get going!"
Rest assured that our staff are being paid and our supply chain will be carefully supported, with the most vulnerable of suppliers receiving the greatest consideration. We shall pass through this not only intact but with stronger ties and bonds than ever. I am giving my personal guarantee right HERE and right NOW that every client in our pipeline shall receive their Dream Defender without exception. It may take a little longer than we had planned together but get your dream you shall!
If in doubt, be like the best of Defender….forgiving, stoic and cool.With huge cheer and great compassion for you all."

Andy Hayes | Arkonik Founder & CEO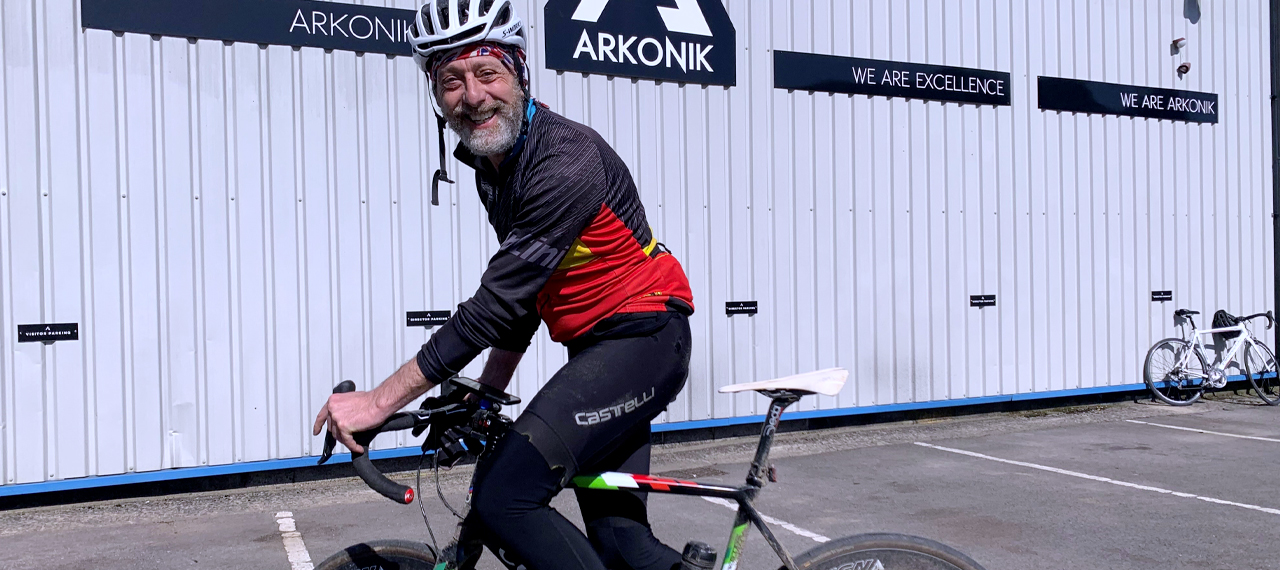 SUPPORT & SOLIDARITY

We have been overwhelmed by the show of support we've had in response to our company's handling of the situation so far. Here's just a few examples of the wonderful comments we've been receiving. Thankyou one and all.
I'm proud my money and hopefulness goes to men and women that have a compass that points to true north. I hope you all remain healthy and in good spirits as we all navigate the shifting ground beneath our feet. This was a lifetime bucket list decision and a major investment. With each day passing through both the design process and through the recent world crisis I know I have chosen wisely in investing in Arkonik. Character and craftsmanship make excellent partners.
Mr McCutchen | Arkonik client

Strategic and execution excellence enables sustainability, and give back! This is very encouraging to hear, especially when many companies are on the edge of financial catastrophe. Well done!
@quattrodan | Instagram follower
Glad to hear you all are being proactive. Stay home and stay safe!
Mr Blythe | Arkonik client

I love all of you guys. You guys do amazing beautiful work. Stay safe and well.
@lewisvandepallen | Facebook follower

I'm quarantined in the mountains with friends, family, and my Arkonik Defender, I'm feeling pretty fortunate.
@Defenderado | Arkonik client
A-TEAM ANTICS
Both cars cleaner than they've ever been… now what? Best start on the house I guess!
Jack Hornby | Assembly Technician

Rabbit run extension done today after being asked by the wife to do it for 18 months!
Jake Davis | Engine Dept Manager
Enjoying the sunshine having a sandwich & coffee with Jerry.
James Wallace | Electrical Manager
Beautiful ride out in the evening sunshine.
Josh Coward | Engine Technician